On 8 November 2022, a webinar was held on the topic "How to become an e-money institution in Germany". Within the framework of an ibi webinar, Dr. Martin Berger described the payment processing requirements for an e-money institution.
Regulation by BaFin
An e-money institution in Germany is regulated by BaFin. So anyone seeking a licence must enter into dialogue with BaFin. Although there should be uniform rules for financial institutions in the EU, the final decision is made by the individual countries. Germany is considered quite strict by comparison, and if you take a look at other countries, the ratio of institutions to population is strikingly different elsewhere.
Small countries in particular are obviously trying to create friendly conditions for e-money institutions, while in Germany the hurdles are set quite high.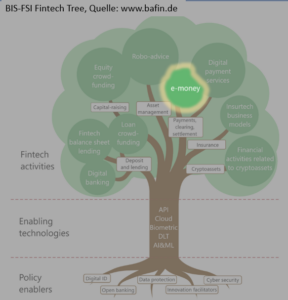 After all, BaFin offers a so-called FinTech Innovation Hub, which is intended to serve as a first point of contact for companies and founders in the FinTech sector. Here, basic information on the granting of a licence is offered and you can have your business model checked at an early stage. Of course, the examination is limited to supervisory aspects and not to economic prospects of success or technical feasibility.
There are a number of business models that require authorisation and not all of them have to do with money. Advisory services in the financial sector may also be subject to authorisation. Anyone who wants to operate a FinTech business model in Germany is therefore well advised to check in good time whether a licence is required.
Payment processing for an e-money institution
An e-money institution (EMI) naturally has a need for a payment system such as CPG.classic. The e-money must be moved between customers and their banks and this usually requires the ability to make interbank payments. It is also important to consider which payment methods are to be used with which clearing system. As already explained in an earlier article, the clearing offers differ in the individual SEPA countries ("How consistent is SEPA?"). An important example is SEPA direct debit (SDD), which plays an important role in banking transactions in Germany. For the clearing of SDDs, the Bundesbank offers a very inexpensive solution: the SEPA Clearer. Clearing up to 100,000 transactions with the Bundesbank costs €0.0025, while a single SDD transaction with the National Bank in Lithuania costs 1 cent.
E-money institutions must therefore not only examine the regulatory requirements for their business model, but also ensure competitive payment transactions for their service. Dr Martin Berger gives a detailed presentation of the requirements in this video (German, English subtitles):
For further questions, please use our contact form.