For the processing of SEPA instant payment transactions, banks can choose between EBA clearing and the Eurosystem. In the Eurosystem, the service is called TARGET Instant Payment Settlement – TIPS. The exact TIPS process and possible malfunctions are described here.
TIPS transaction flow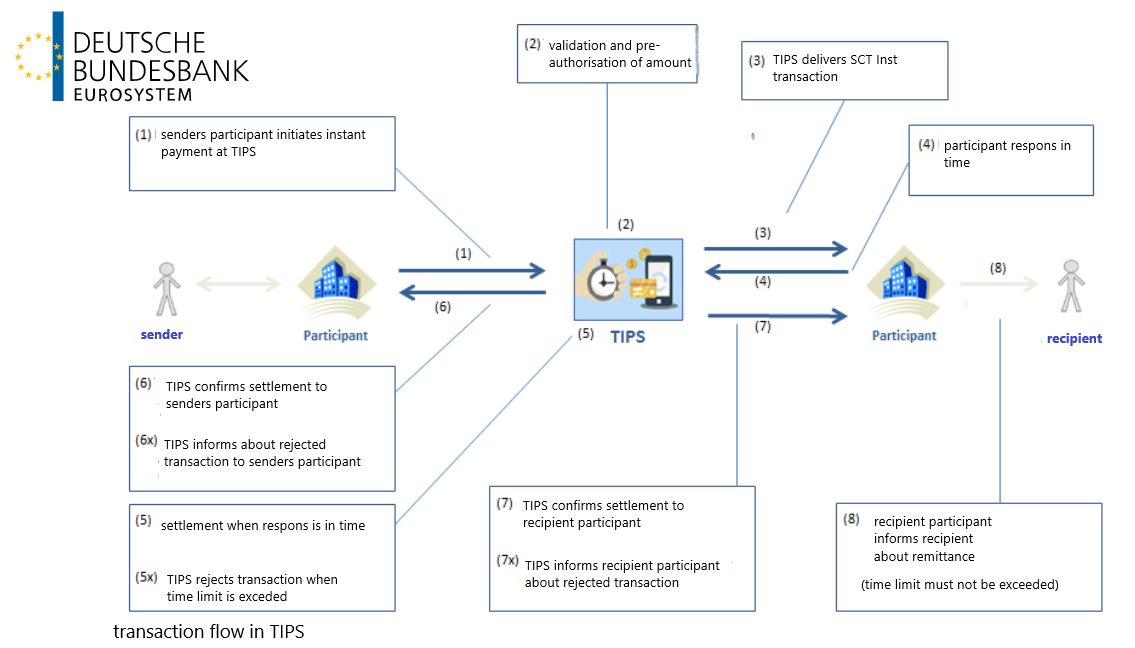 Requirements for a SEPA Instant Credit Transfer (SCT Inst) are described in another article. The time limit is the greatest challenge for everyone involved, since the amount must be "available" to the recipient. The recipient must therefore be able to continue to dispose of the money without restriction.
It should be mentioned here that the TARGET2 consolidation changes the liquidity management for TIPS. The technical connection is made by currently two network service providers: SWIFT and SIA / Colt. TIPS is currently hosted by data centers in Frankfurt and Rome.
Possible reasons for a malfunction
Any financial transaction can fail due to several reason at the sender, recipient or the clearing system. Aside from technical interruptions, there are other reasons for a transaction to fail:
Money laundering or embargo check: Before sending or receiving, banks may check whether the transaction is conspicuous within the meaning of the money laundering ordinance or whether a party is on a sanction list.
Availability: The recipient or his bank cannot be reached (the entry of such a transaction is usually blocked in advance, i.e. not in the TIPS process).
Insufficient limit: the transfer amount is too high (account limit or SCT Inst amount limit; this should also be checked in advance).
Senders bank's funds in the clearing system is not sufficient to carry out the transaction.
Recipient bank refuses to accept it, e.g. because the account has expired.
Time limit for a SCT Inst transaction is not adhered to.
The system informs the TIPS participants about the reasons for aborting a transaction. The sender and recipient (account holder) usually do not receive any details, so that there are no unnecessary discussions.