In the hospitality industry or related areas such as so-called coworking spaces, there are many authorisations to manage. From parking barriers, lift control, door opening to coffee and snack machines, the customer should have his wishes fulfilled, but also pay a fair price for it. Until now, the control of different devices and machines was very complex. By using the attestation principle, everything becomes easier and cheaper.
Networking as a cost trap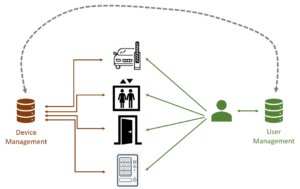 Cost pressure is forcing staff savings. If access or services are no longer to be monitored by staff, self-service technology promises a remedy. Regardless of whether it is a barrier, door, lift or coffee machine: if the use is to be limited to authorised persons or times, networking (device management) is required. It is precisely this connection to a background system that is a cost driver and causes many projects to fail. In particular, retrofitting cabling in houses is usually not economically viable.
Wireless networking, e.g. via a WLAN or mobile phone network, also entails maintenance costs and upkeep. In addition, the necessary components are often too large for installation. But how can this expensive infrastructure be replaced?
A network without (its own) network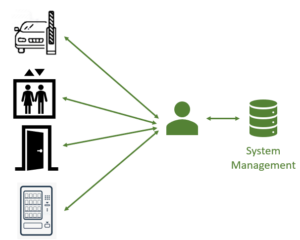 The cost saving in networking is achieved by "omitting", i.e. the components are not networked at all. Instead, a small crypto chip (Attestation Device – AD) is built into the parking barrier or a coffee machine, for example. This chip recognises a "request" and can verify it without having to ask a background system.
There is no networking of the devices; instead, all communication takes place via the user's smartphone. The user has a mobile app on his smartphone which in turn uniquely identifies him in the system. If the user has received authorisation from the system (host), this is managed in his mobile app. This procedure is called the attestation principle and is also used in cashless payment transactions.
The nested encryption of user, authorisation and device rules out fraud and manipulation.
Pay as you go with the attestation principle
This simple and cost-effective variant of device control suddenly allows a multitude of services to be integrated into a system. If, for example, a hotel guest spontaneously decides to use air conditioning in his room, he can simply activate it himself in the hotel's mobile app. The room temperature can also be selected in the hotel mobile app, so that no control unit for the air conditioning has to be installed in the room. Whether payment is to be made at the same moment or later by hotel bill can be freely selected.
Examples of "pay as you go" in a hotel room:


Broadband Internet Access
TV / Pay TV
Air conditioning in room
Room safe
extended check out
The disadvantage of such pay as you go service worlds based on the attestation principle is that the customer must own a smartphone. In Germany, this can now be considered a given (see here).
If you would like to know more about solutions based on the confirmation principle, please use our contact form.