The Deutsche Bundesbank (BBk) is the "guardian of the currency" and all banks licensed in Germany must have an account with it. This option does not exist for ordinary citizens or businesses, as the BBk is not supposed to compete with the banks in the country. There are exceptions, however, which are explained in this article. The EBICS communication protocol plays a special role here.
In addition to banks (credit institutions as defined in Art. 4 (1) No. 1 of Regulation 2013/575/EU), credit institutions with a partial banking license and financial services institutions as defined in the German Banking Act (Kreditwesengesetz, KWG), securities institutions as defined in the German Securities Institutions Act (Wertpapierinstitutsgesetz, WpIG), and public administrations (e.g., the State Office of Finance in Bavaria, users of CPG.classic) may maintain an account with Bundesbank. Service providers who process payments for public administrations can also obtain an account.
CAM account holders may be able to work with their own bank sort code (Bankleitzahl), which simplifies the use of CAM services.
HBV Components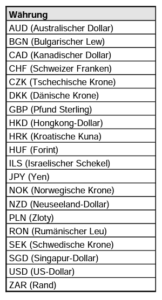 The Bundesbank offers four services for CAM accounts:
individual – same-day (single) payments in euro or selected currencies
IMPay – payment transfers in foreign currency in EU/EEA and some other countries (only for public funds)
Instant – SEPA Instant Payments (participants without bank sort code)
SEPA – SCT and SDD (bulk) payments (participants without bank sort code)
Communication Path EBICS
BBk accepts three different communication channels for CAM account holders: SWIFT, FinTS and EBICS. SWIFT is limited to holders of their own bank sort code and is thus rather reserved for large organizations.  FinTS (Financial Transaction Service) is a further development of the HBCI (Homebanking Computer Interface) standard and is intended for participants without a BIC. EBICS, on the other hand, is universally applicable, i.e. for organizations with and without their own BIC.
In contrast to FinTS, EBICS can also be used to transmit files for the CAM instant service (SEPA Instant Payment), although only the transmission of individual transactions, i.e. one transaction per file, is currently possible here. The possibilities for automation are therefore much greater.
Another important advantage is the cost efficiency of EBICS: there are no transaction fees as with SWIFT. It is therefore not surprising why EBICS also enjoys great popularity among CAM users.