SEPA participants who want to process instant payments in the Eurosystem must prove communication with TIPS. The German Bundesbank has defined the TIPS certification test for this, which is summarized below. As always, the test candidates must complete all tests without exception, even if a single business transaction is not intended for the participant.
TIPS certification test U2A – A2A
For the test, a distinction is made between "user": "User to Application" and "Application to Application"
U2A describes processes that are carried out manually by a user in the GUI. These are, for example, changes in the configuration or the transfer of liquidity. Screen shoots are proof of passing the test.
A2A are automated processes between TIPS and the participant's payment system (e.g. CBPay). The processes here are closer to the transaction, such as a recall or an inquiry. Of course, a transaction is one of them. Copies of the messages serve as proof.
There are also tests that both U2A and A2A must be carried out, such as the limit update.
TIPS certification test overview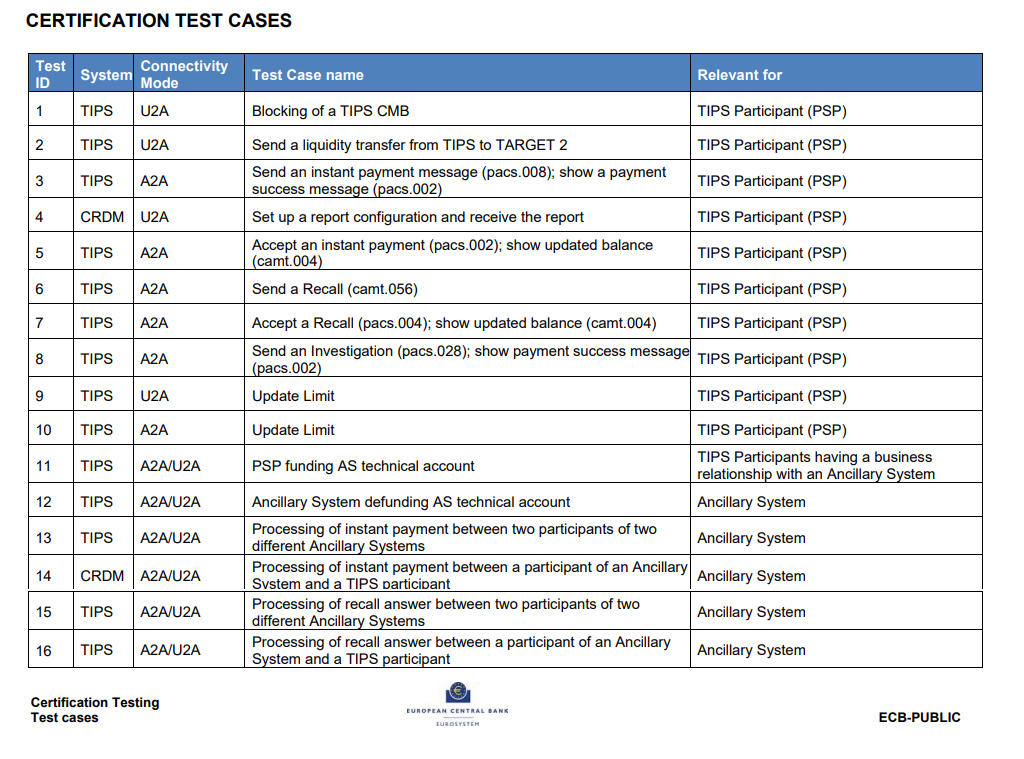 TIPS certification test No. 5
Number 5 is noteworthy in the tests. Two previously unused message formats are introduced here: camt.003 and camt.004. With the test, the participant knows that he can check his account balance at TIPS: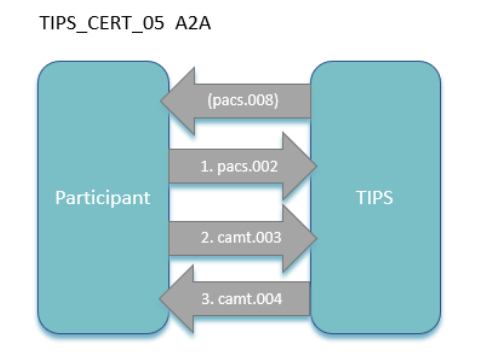 Procedure:
The credit of a transaction is confirmed by means of a pacs.002
then the account balance is requested with a camt.003 message
the answer is a camt.004 with the account balance
Proof of this test is provided with a copy of the pacs.002 and the camt.004.
The Bundesbank provides the current documents here: Bbk scope of services