There has been a new term in SEPA payments for some time: "Request to Pay". The origin lies in a new SEPA Scheme (SRTP) of the European Payments Council, which has attracted a lot of attention. Various companies are hijacking the term to make themselves or their services look like SRTP. This article explains how to separate the wheat from the chaff.
Example: Deutsche Bank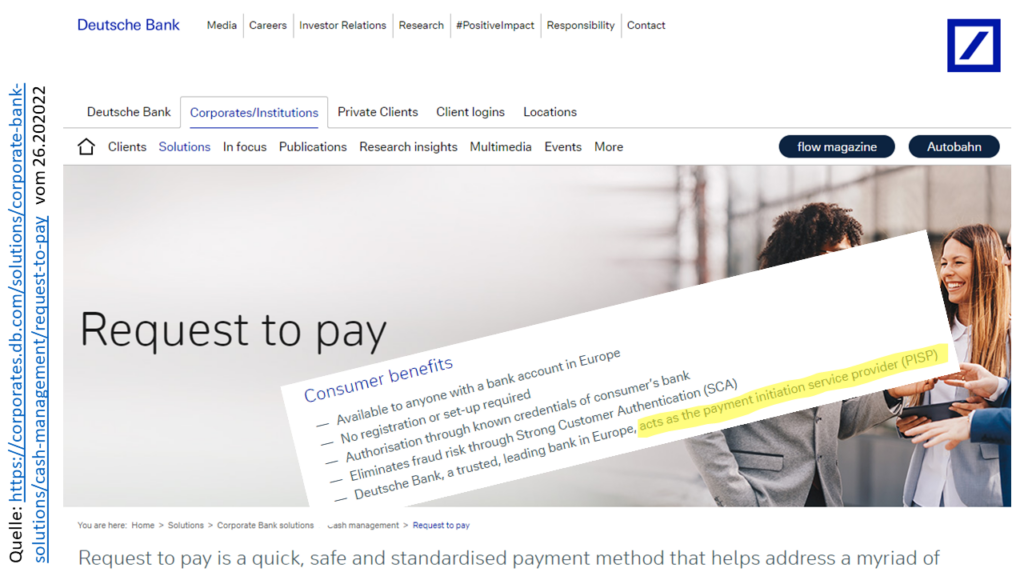 Of course, the phrase "request to pay" is not protected as a trademark and anyone can use it. Of course, one can also take the view that "request to pay" simply means "request for a payment" and can therefore mean anything. Accordingly, however, an old-fashioned invoice is then also a request to pay.
In the case of Deutsche Bank, a solution from the world of Open Banking is presented under the heading "Request to pay". Although this is also regulated in the SEPA area, it is quite different from SRTP. The bank acts as a "Payment Initiation Service Provider – PISP" according to PSD2 and has obviously developed a solution for companies.
It is difficult to say whether the mixing of technical terms is due to a lack of expertise or is simply a retentless intended to attract customers. Both reasons are likely to scare off potential customers. Ultimately, however, it is not helpful for anyone if terms are mixed up, and in the meantime, unfortunately, some providers are acting in a similar way.
PSD2 Open Banking vs. SEPA Request to Pay
The PSD2 regulation forced the banks in the SEPA area to offer an interface for external service providers so that they can access customer accounts. In this way, an account balance can be read (Account Information Service) or even a payment triggered (see PISP above). With this measure, the EU wanted to enable competition between banks and FinTech companies and promote innovation.
The biggest criticism of the AIS or PISP services is that access data to the account becomes accessible to the service provider and at the same time (at least theoretically) all possible data can be read from the account. Consumer Protection Association are critical of this.
With SRTP, account access by third parties is technically impossible because the account-holding bank itself sends the payment request to its own customer (e.g. as a push message in the mobile banking app). The payee in turn receives confirmation of the payment from his own bank. The exact procedure and the possibilities of SRTP are described in this article: SRTP Basics
How can I recognise real SRTP?
If a company wants to implement a real SRTP solution today, the first question that should be asked is how widespread it is. Banks with retail business would first have to implement SRTP for a transaction to take place at all. However, these banks are hesitant due to a lack of economic sense (see here). Deutsche Bank has also not introduced SRTP for its private customers!
If you want to follow the spread of SRTP, you can do so on an official EPC website: Participants in SEPA payment and payment related schemes