The SWIFTNet can be accessed in different ways in order to meet different requirements. These SWIFT interfaces must guarantee secure access to the system and are therefore subject to constant technical change. In this article, the most important current SWIFT gateways are briefly presented.
SWIFT Service Bureau
SWIFT certifies providers to give access to SWIFT products: the so called SWIFT Service Bureaus. Efforts for the necessary IT enviorment are shared for many users then. Banks and companies can use these service providers to gain access to SWIFT Net and also have additional tasks such as conversions carried out. These service providers compete with each other and try to differentiate themselves from one another through consulting, training and service offers.
Ultimately, the service offices use the same SWIFT interfaces, but have often supplemented them with their own solutions.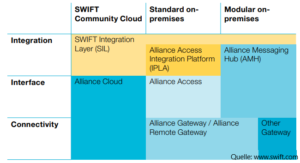 Alliance Access
The "big solution" among the SWIF gateways is "Alliance Access" as one of the "on-premises solutions". International banks and companies can manage their financial messages globally and access all SWIFT functions. Users with individual requirements, high transaction volumes and the need for the highest possible reliability use this SWIFT Interface.
Alliance Cloud
The modern, cloud-based variant of Alliance Access is the Alliance Cloud. Due to the cloud technology, the user has low hardware requirements and at the same time a high degree of flexibility, i.e. scalability in operation. The availability of the Alliance Cloud was announced for 2020, but has been delayed until 2021.
Alliance Lite2
Another cloud-based access to the SWIFT network is "Alliance Lite2", which has replaced the first version of Alliance Lite. Encryption via a USB token enables working via a web-based GUI from any internet-enabled computer. Individual transactions can be entered or files can be sent or received. An User and rights management enables larger companies to organize work processes securely.
Alliance Lite2 for Business Applications (L2BA)
A logical addition to the Alliance Lite2 for fully automated processes is the L2BA. Here software programs communicate without human intervention, i.e. an STP operation mode (Straight Through Processing) is set up.
Alliance Messaging Hub (AMH)
SWIFT AMH can be used to implement very individual solutions. Colloquially, the word "Lego solution" seems to be a suitable description here, since the user can make his own individual selection of modules. A monitoring system (control center) and a process engine with a graphical user interface are part of the AMH.
SWIFT Integration Layer (SIL)
SIL is the technical bridge from the IT system of the user to Alliance Access, Cloud or AMH. It can be communicated in all message formats (SWIFT MT MX) and with all services (messaging services). On the customer side, data is exchanged with files in a directory structure or optionally via IBM WebSphere MQ.